This evening Neutral Impact successfully defeated three unique notorious monsters during the first ever official raiding night!
Our plan of action began with Great Buffalo after we discovered Uraeus was already engaged in battle with another linkshell. After the buffalo we took a trip over to Coerthas ourselves to take out Uraeus and defeated him. Event Leader Black Death then led us on the march to Treespeak where we took down Haughtpox Bloatbelly and his gang of misfit goblins. He was a real pushover; we were expecting much more. We ended the night with our second Uraeus. All in all a solid raid night. We really couldn't ask for more!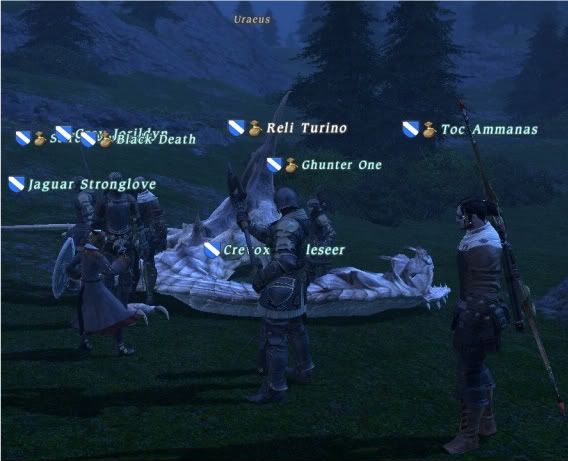 Here's our first Uraeus kill!
We obtained no worthy drops, even with all our efforts to incapacitate. That is okay though--we came away with much more than drops could offer us at this stage. As a leader, I look back to the birth of the linkshell in July of last year and am very happy with where the linkshell is now. We entered end game later then we initially planned, but it no longer matters. From these battles, I saw a lot of camaraderie and personalities really shine throughout our fights. I personally could not be happier with what I saw last night and really look forward to the future success of Neutral Impact.
Things are only looking positive for us these days. We've even gotten a few retired members to return to us and they are now working their way to fifty! Stay tuned for more action from us in the coming weeks!
Goblin is sadface :(